Extreme Rally Raid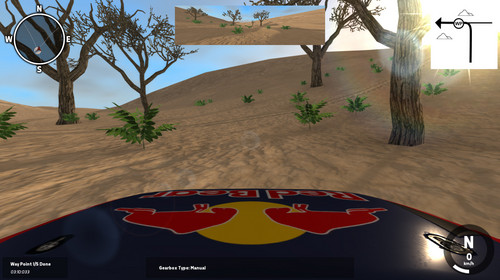 Hi, well, we are closing a very productive month for the development. So, here we go with some points of the work:
Surface
The feedback of the surface was improved and this change a lot the handling of the car, at least in the sands of our demo scene. This should be replicated in other surfaces.
New content
In addition with the work in the demo scene, we are working in new content where we will see the improves in the development and other things. This content at the moment includes a new car (secret) and a completely renewed scene showed in the past.

#VictoriaSeConecta
One week ago we were in this event, in Mar del Plata. We tested the improves in surfaces in a laptop, checking the improves in performance too. In this last week we improved many things, that are listed in the next points.
Sounds
All sounds excepts the engine, were reworked, getting a better inmersion, in next videos you will ear it! I'm talking about surfaces sounds, crashes, suspension and gearbox.
Lights
A completely new system of lights were made for the 'Hillix' car. Includes stop, short and long lights. Oh, and blinkers and hazards, we take this seriously :)
Virtual mirror
Was added in the UI a virtual mirror, now is not a big deal, but in the future could be important.
Misc
- Dario said that the sound should be turned off when the game is paused, so Facundo worked on this.
- Facundo added a message in the UI showing the selected mode in the gearbox. Will be showed during 3 seconds after change the gearbox mode.
- We updated the game engine, hopefully was a very placeful update, without broke anything.
- Release of the demo: is a FAQ for us, this will be happen in the last 3 months of this year, maybe. Is almost ready everything but we keep adding new things.